AVENGERS: AGE OF ULTRON HULKBUSTER (DELUXE VERSION) 1/6TH SCALE COLLECTIBLE FIGURE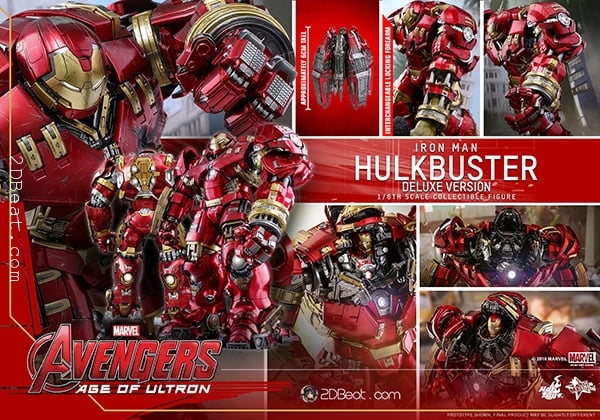 "Veronica, give me a hand!"
Specifically designed by Tony Stark and Bruce Banner, the extremely durable Hulkbuster suit can be deployed from orbit. Both Stark and Banner sincerely hope the raw might of the Hulkbuster will never need to be utilized…
Given the immense popularity of 1/6th scale Hulkbuster Collectible Figure, Hot Toys is ecstatic to officially present the Deluxe Version of Hulkbuster Collectible Figure that provides remarkable illumination and a striking appearance!
Masterfully crafted based on the appearance of Hulkbuster in Avengers: Age of Ultron, the movie-accurate colossal figure stands approximately 55 cm (21 inches) in height, including a Mark XLIII bust with LED light-up eyes and arc reactor on chest that can be placed inside the gigantic machine. This iconic armor accentuated with metallic red, gold and silver painting and weathering effect features over 20 LED light-up areas located in the eyes, chest, repulsor palms, back, and legs, an interchangeable battle damaged chest armor, also the beautifully designed chest and shoulder armors that highlight the mechanical details.
In addition, this Deluxe Version will exclusively include a LED light-up Jackhammer left arm with hand, an interchangeable locking forearm, and a Hulkbuster Pod!
The spectacular Hulkbuster will make a very patriotic addition to your Avengers: Age of Ultron collection!
The 1/6th scale Hulkbuster (Deluxe Version) Collectible Figure specially features:
– Authentic and detailed likeness of Hulkbuster in Avengers: Age of Ultron
– Approximately 55cm in height (approximately 21 inches) and 10kg in weight
– Special features on armor:
– Chest can be opened to reveal the Mark XLIII bust with LED light-up eyes and arc reactor on chest (white light, battery operated)
– Metallic red, gold and silver colored painting on armor with weathering effect
– Over 30 points of articulations
– Over 20 LED light-up areas located in the eyes, arc reactor on chest, repulsor palms, back, and legs (white light, battery operated)
– Shoulder and chest armors can be opened
– One (1) interchangeable battle damaged left chest armor
– One (1) LED light-up Jackhammer left arm and hand with articulations (white light, battery operated) ***
Approximately 35 cm long (up to approximately 41 cm after extension)
Over 9 points of articulations
– One (1) interchangeable Locking forearm***
– Interchangeable neck armor for when displaying the Mark XLIII bust
– One (1) pair of removable forearm armors
– One (1) pair of hands with articulated fingers and light-up repulsors (white light, battery operated)
– Contains diecast material partially to strengthen core structure and enhance articulations
Accessory:
– One (1) Hulkbuster Pod (approximately 6cm tall)***
Artists:
– Figure Painted by Lok Ho
– Figure Art Directed by JC. Hong
**Prototype shown, final product may be slightly different
**Batteries included for collectible figure
**Product details can subject to change without further notice