Mô hình 1/6 Hot Toys VGM35 Venompool Marvel Contest of Champions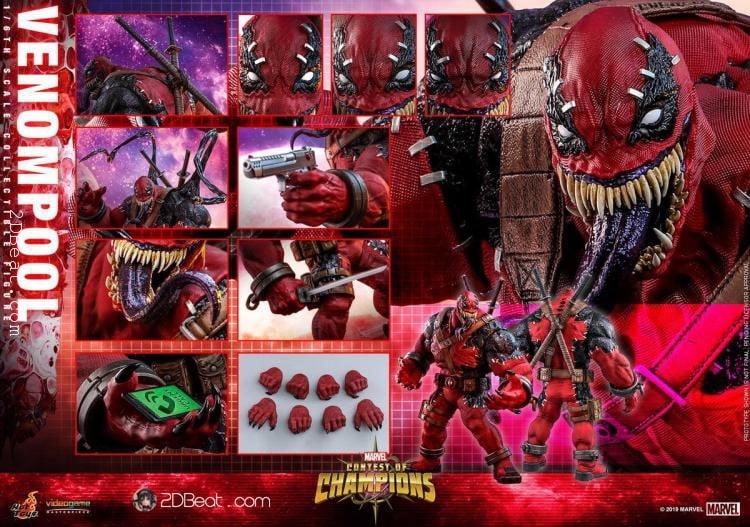 As one of the most popular and bizarre elements of the Marvel Universe, the Venom symbiote can possess people and give them powers in the process. This alien entity can shift from host to host and has managed to become entangled with characters! So what if Venom symbiote possessed Deadpool? Today, Hot Toys is very excited to bring to you the brand new 1/6th scale collectible figure that captures the wildly popular character – Venompool from an impressive lineup of Marvel Contest of Champions!
Expertly crafted based on the unique appearance of Venompool in the game, the collectible figure standing approximately 36.5cm tall features a newly developed head sculpt with 3 pairs of interchangeable eye pieces and 2 interchangeable long tongues to create numerous combinations of character's expressions, a skillfully tailored red and black suit capturing numerous fine details, signature weapons including a pair of katanas and a pistol, last but not least, a variety of interchangeable hands available for different gestures!
Furthermore, a Special Edition available in selected markets will include as additional grinning head sculpt as bonus item exclusively for collectors.
It is time to recruit this insanely cool Venompool to your unconventional collection!
The 1/6th scale Venompool Collectible Figure specially features:
– Authentic and detailed likeness of Venompool in Marvel Contest of Champions game
– A newly developed Venompool head sculpt with two (2) interchangeable tongues and three (3) pairs of interchangeable eye pieces that can create numerous combinations of Venompool's expressions
– Approximately 36.5 cm tall
– Newly developed specialized body with over 20 points of articulation
– Eight (8) pieces of interchangeable gloved hands including:
– One (1) pair of fists
– One (1) pair of katana holding hands
– One (1) pair of gesturing hands
– One (1) gun holding left hand
– One (1) finger pointing left hand
Costume :
– One (1) meticulously tailored red and black-colored Venompool suit
– One (1) brown-colored shoulder strap belt with belt and pouches
– One (1) thigh pouch
– One (1) pair of red and black-colored boots
– One (1) pair of wrist rings
– One (1) pair of ankle rings
Weapons:
– Two (2) katanas
– One (1) pistol
Accessories:
– Two (2) black-colored attacking effect accessories with wire insulation
– One (1) pair of katana sheath
– One (1) smart phone
Exclusive Bonus Accessory for Special Edition:
– One (1) newly developed grinning head sculpt
Release date: Approximately Q3 – Q4, 2020
** Prototype shown, final product may be slightly different
** Product details could be subjected to change without further notice
(C) 2019 Marvel.
(C) 2019 Hot Toys Limited. All Rights Reserved.